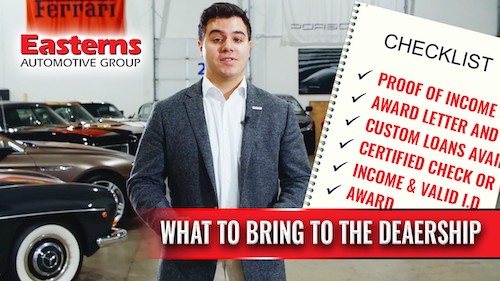 What do I need to to bring to the car dealership?
Buying a vehicle is an exciting time! If you are in the process, and close to driving off the lot in your new car, truck, or SUV, congratulations! We, at Easterns Automotive, thoroughly enjoy helping people's dreams come true. Of course, you want your car buying experience to go as smoothly as possible. There are certain things you the buyer can do to make sure that things go as planned. One of those things is to arrive at the dealership with certain documents and information in hand. Read on to learn what you need:
What Documents do I Need to Buy a Car?
In the video above, Joel Bassam, the Director of Marketing for Easterns Automotive Group, breaks down what you should bring to a car dealership to make sure that your transaction is as smooth and seamless as possible.
If You Are Financing Your Car with a Loan:
The majority of consumers elect to finance their vehicle, and most of those people will only need to bring two things:
Proof of Income (like a Pay Stub)
Valid Form of Identification (like a Drivers license)
Your driver's license is something you carry with you anyways. But before you head down to Easterns, double-check to make sure you have it. Also, make sure it's valid and not expired. While you have submitted on paperwork your income and employment, we will need a way to verify that. The simplest thing to do is to bring your most recent pay stub. If you are self-employed or don't receive traditional pay stubs, there are custom loans available at the dealership. We are willing to work with you on an individual level to verify your income. If you get income outside of your paycheck, you should bring:
An Award Letter
A Bank Statement
If you are purchasing a car using cash:
Some people are able to pay for their vehicle upfront. While most people do need a loan, a cash payment avoids having a monthly payment for the financing. If you are paying for your car outright you should make sure you have:
Valid Form of Identification (like a Drivers license)
A Certified Check
Or Complete a Wire Transfer
Other Items to consider bringing along:
Proof of insurance. It is important to make sure you are insured before you drive your car off the lot. Not all states require this, but it is a good idea to have anyways. Be sure to bring your current proof of insurance card to the dealer, too.
Trade-In Documents. If you are trading in your car, and have settled on an agreement for your trade-in amount, make sure you arrive at the dealership with that vehicle's title and registration.