Multi-Point Inspections on Every Used Vehicle!
If you are shopping for your next vehicle and are considering a pre-owned model, there are some great benefits to going this route, as opposed to new. The first step to finding your car is to determine your budget, as well as the type of car you are looking for. Then, you might narrow your search down to a few different models. Once you do that it's time to look at inventory. If you live in the greater VA-MD-DC area, then Easterns Automotive is a great pace to start. We have an extensive inventory, and just about every type of vehicle you can imagine.
If you find a model that seems to fit your needs, you may have one more question about it – what type of condition the car is in. It is certainly a legitimate question. The last thing you want is a car that looks nice on the outside but doesn't run correctly. And that is why, here at Easterns Automotive, you can have peace of mind. EVERY SINGLE vehicle on our lot passes through a rigorous Multi-Point Quality Certification. Including State inspection!
CARFAX Report on Every Vehicle
Every Easterns vehicle comes with a CARFAX report. You can have 100% confidence that the vehicle you purchase from Easterns is of the highest quality. CARFAX Vehicle History Reports reveal the truth about used cars, CARFAX provides important background information to unearth hidden problems in a vehicle's past that may affect its safety and resale value.
Warranty and GAP on Every Vehicle
When you buy a vehicle from Easterns Automotive Group you can be confident that your vehicle is in top condition. Every vehicle passed our Certified Quality Inspection. Easterns offers extended warranties and GAP coverage on every car we sell.
Some vehicles may be subject to manufacturer safety recalls that for various reasons may not be repaired prior to sale. You may also check for open recalls at www.safecar.gov.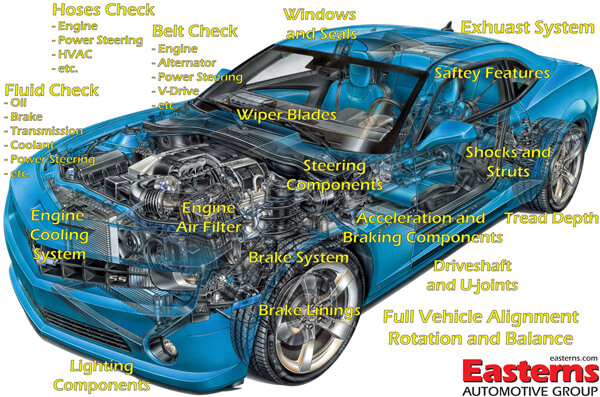 Join our Family and Start a Great Career Path
When you start a career at Easterns, you are not simply starting a new job, you join our family.