Pay It Forward ? Nourish Now helps feed the needy through food recovery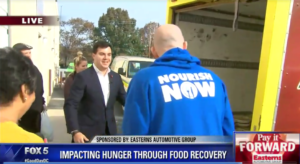 Happy Holidays everyone! This is a very special time of year because loved ones are able gather and celebrate with good times and of course great food.? However, not everyone is able to have the same experience based on their financial status.? Fox 5 DC and Easterns Automotive Group teamed up with an incredible nonprofit called Nourish Now that works actively to feed those less fortunate in Montgomery County, Maryland.? They supply approximately 700 families with a five day supply of food each week.? Brett Meyers founded Nourish Now after being the manager of a fast food restaurant.? He saw so much food go to waste that could have gone to people that really needed it.? Many people do not even know that that there is about 133 billion pounds of food wasted in the United States each year while there are people starving.? Thanks to Meyers, his nonprofit is able to help change this statistic and work to end hunger through food recovery.
With Thanksgiving upon us, Nourish Now is working with their volunteers to pack up food for the holidays.? Each Thanksgiving, they feed over 1,000 in the area.?? Nourish Now is able make this happen with the help of over 150 different restaurants, catering companies, and grocery stores.? Easterns Automotive Group and Fox 5 DC got word of all the hard work that Mayers and his team are doing and decided to do their part.? Easterns donated about 75 30-pound turkeys and dozens of pumpkin pies to go with the Thanksgiving meals they are preparing to send out.? Please click here to learn more about Nourish Now and how you can either volunteer or donate.? Being in the car business for over 30 years, Eastern Motors understands the importance of giving back and helping the amazing people of the DMV community that has continued to support them in return.
If you know someone in the DC, Maryland, and Virginia area that goes above and beyond the call and is worthy of being recognized, Click here to nominate them.
Watch the video to see the way everything unfolded.
Link to original post – http://www.fox5dc.com/news/pay-it-forward/pay-it-forward-maryland-man-recovers-food-to-make-an-impact-on-hunger