Gap (Guaranteed Auto Protection) Insurance
Why take chances with your investment?
In the event that your vehicle is stolen, accidentally damaged beyond repair or otherwise declared a total loss, your insurance company will pay their interpretation of your vehicle's value – not what it's worth to you. 1 After your insurance company values your vehicle, you could still owe a substantial amount on your loan or lease. You remain liable for paying the difference between your insurance company's settlement and your remaining balance. This difference – added to the amount of your deductible, time missed from work, rental car costs, a replacement vehicle and other expenses – can easily total thousands of dollars out of pocket.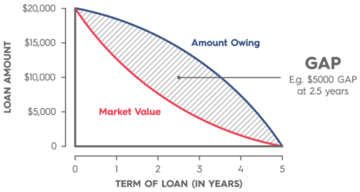 * Image for illustrative purposes only; amounts vary for each consumer